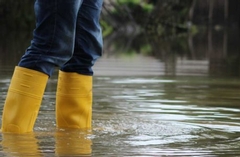 The experienced technicians at ANYTIME RESTORATION SERVICES provide 24 hour emergency assistance for broken pipes & water leak related issues. It is important once water leaks are identified they be dealt with immediately and handled by the professionals at Anytime Restoration Services. Broken Pipes could become a serious safety hazard to the occupants in the structure as well as the structure itself. Structures that contain extreme high amounts of moisture are more susceptible to have mold, fungus, and other forms of microbial bacterium. Preventing microbial growth from taking over your structure is what we do best. For 24 hour emergency flood cleanup please call Anytime Restoration Services for assistance.
Broken pipes are in structures that have water damage especially during the winter time. As water freezes it expands and this expansion can lead to an enormous amount of pressure in the system. Broken pipes as well as water leaks can lead to water damage depending on the age of the structure and the type of materials used. Areas of a pipe line exposed to extremely low temperatures are more at risk.
Common Areas
Sprinkler lines
Water supply lines that are unheated and lead to the interior of the residence such as basements, attics, crawl spaces, and cabinets exposed to the exterior of the structure.
Swimming pool lines
Preventing Frozen Pipes
Check around the structure for water supply areas that may be unheated by the surrounding environment. These areas might include basements, crawl spaces, attics, garages, pools, and sheds. I would be in your best interest to make sure hot and cold piping is insulated.
You will need to drain all lines that cannot be insulated/heated and if able move to warmer temperatures. Sprinkler systems will need to be purged and drained of all moisture during the winter months. Valves that are exposed to the outside need to be left open as to prevent the water inside the aperture from freezing causing the pipe to break. The inside valves must be closed to the outside as well.
Antifreeze is dangerous to us and the environment. Do not put antifreeze in any lines unless otherwise indicated such from the manufacture.